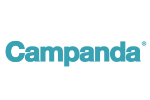 Campanda GmbH
Campanda is the leading TravelTech company in the online RV rental market. Founded in 2013 in Berlin, we're well on our way to revolutionising the way people discover the world on four wheels. We're an established and high growth Startup with the backing of top-tier investors including Atlantic Labs, Ecomobility Ventures and Michelin Travel Partner.
Our passionate and growing team is on a mission to redefine the RV sharing economy. With 8 international marketplaces available in 6 languages, we connect a network of professional and private motorhome and caravan owners with travellers looking to rent a vehicle for their holidays. This unique combination of B2C and P2P suppliers makes us world experts in RV rentals, whichever corner of the world our customers want to explore next.
If PHP, Symfony, Python, Microservice oriented Architecture (MoA), Event-driven Architecture, Elasticsearch, Docker, DevOps culture, Test Driven and Agile Development rings a bell, come talk to us!