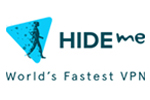 hide.me VPN
hide.me VPN is one of the largest and fastest VPN providers with more than 15 million users across the globe. The company operates with one single vision of making internet security accessible to every human being on the planet. hide.me VPN has been helping users stay safe online since 2012 with an ever evolving service. 
The company believes that internet security and privacy is a basic human right and staying true to its vision, it offers a lifetime free VPN which could be used by an average internet user without any financial considerations. hide.me VPN is designed for laymen because of which their product is really simple to use. One of the key philosophies the company follows is, the faster, the simpler and more affordable VPNs get, the higher the adoption of the service will be.
hide.me VPN's paid plan is considered to be one of the best in the market, rated very highly by security experts and independent reviewers including PC Mag, PC World, Tech Radar, VPN Mentor etc.