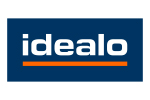 Idealo Internet GmbH
idealo is a Berlin success story: in 2000 we started out with the mission of helping consumers make the best purchasing decisions. Today, with 1.5 million visits per day, 50,000 shops and more than 330 million product offers we are one of the most popular German e-commerce websites and one of the leading European shopping and comparison platforms. 
As the biggest department at idealo internet GmbH, Product & Technology is responsible for using idealo's 330 million offers to develop a perfect shopping experience for smart price comparison in Germany, France, Spain, Italy, Austria and the UK. First and foremost, IT makes this possible by overseeing the high-performance processing of incoming offers and continuous price updates. Furthermore, features such as Favourites and Price Alerts help users find the right product at the right price while idealo User Accounts and idealo Checkout make the process of buying online even more comfortable. Shop Smart idealo!