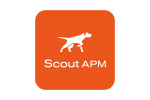 Scout APM
Scout's mission is to empower developers with the confidence and insights needed to understand their complex applications in a simple and intuitive way.
Based in Denver, Colorado, Scout is a fast-growing B2B SaaS startup specializing in application performance and error monitoring. Scout helps developers quickly pinpoint the cause of performance issues in their web applications. Scout uses tracing logic to tie bottlenecks to source code, so developers can quickly pinpoint and resolve performance abnormalities before the customer ever sees them. With easy installation and support for multiple languages, Scout delivers proactive and real-time insight into performance issues like N+1 queries, memory bloat, slow queries, errors, and more.
Scout's agent is safe to run alongside your existing APM library and gives developers prioritized observability insights with minimal configuration. Scout's deep instrumentation and clutter-free UI streamlines performance issue resolution by providing actionable insights in less than 4 minutes. Scout's real-time alerting and customizable dashboards provide the data insights needed for any developer to become a performance pro. 
Start your free 14-day trial today and see firsthand why Scout is a developer's best friend.